What is Financial Planning?
Comprehensive financial planning is the process of formulating, implementing, and monitoring financial decisions in order for an individual or family to optimally achieve their financial goals. Facilitating this process is the primary mission of Grossman Financial Management.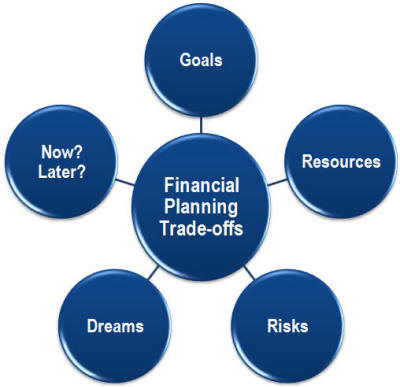 Comprehensive financial planning involves the management of personal financial resources, opportunities and risks through a careful and ongoing planning process. The financial planning process helps clients to effectively manage their finances in many ways.
The personal financial planning process guides clients to realistic and attainable goals. In so doing, it plays a critical role in avoiding behavior that may be counter to a client's real needs.
It formulates a realistic plan of action.
It determines what resources are needed and available.
It identifies risks and contingencies.
It enhances the client's control of their financial destiny.
It facilitates better strategic decisions.
It provides an ongoing process of planning, feedback, evaluation, and course correction.
It emphasizes measurable goals that provide guideposts for financial action.
It makes it more likely that goals will be achieved.
The planning process generally follows these steps:
Development of the client goals, such as for retirement and investments.
Collection of the relevant information, financial and otherwise.
Analysis of the data and the goals to determine feasible courses of action.
Selection of the most appropriate strategies.
Specifying detailed implementation targets and action items.
Monitoring and measuring the implementation.
Modifying actions and targets as needed over time.
It is critical to recognize that not all publicly available financial planning software programs calculate financial forecasts properly. In fact according to a 2016 academic study of 36 major online retirement programs from the University of Texas, "publicly-available retirement planning tools are publicized to aid households in their retirement planning efforts, but households are likely overestimating tool effectiveness…the advice provided from a majority of these tools is extremely misleading to households" "The Efficacy of Publicly-Available Retirement Planning Tools", February 2016
In the final analysis, financial success is in the eyes of the beholder. At Grossman Financial Management, we believe that personal financial planning, properly done, advances significantly the probability that clients will be financially successful in their own eyes by realistically establishing financial goals and then prudently managing financial affairs to those ends.